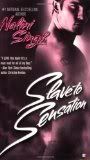 I haven't posted for a long time again, but I have been doing a lot of reading during this time. One of the series that I'm very much addicted to right now is called the
Psy/Changelings Series
by
Nalini Singh
. The first installment of the series,
Slave to Sensation
, is a wonderful page-turner written in a convincing original alternative universe (with very yummy male characters, of course).
Summary:
As the alpha of one of the most powerful leopard packs in the country, Lucas is committed to protecting his pack at all cost. When a brutal murder descended upon his pack, DarkRiver, he was determined to find and bring Changeling justice to the serial killer. But to do so, he must extract information from someone of a race devoid of all emotions.
Where the Changelings depends heavily on their emotions and the bond of pack, the Psy denies all emotions, considering it as a weakness. Sascha Duncan was the daughter of a Councilor of the Psy race and was taught to become the perfect Psy from a young age, but she was flawed. Fascinated and attracted to her new Changeling business partner, Lucas, she must hide her emotions to avoid the horror of a "rehabilitation", a fate worse than death, even as he temps her otherwise.
What I liked:
I must admit, I never really liked shape-shifters with the exception of the ones in
Kresley Cole
's
Immortals After Dark Series
(see my reviews
here
), and those Lykae weren't even real shape-shifters. I like animals, but having a lover who'll go all furry on you wasn't exactly the sexist thing to imagine. I already have my cat, Kuhla, who snuggles up to me when he's in a good mood, thank you very much, lol. But, I must say,
Nalini Singh
managed to make her Changelings
beyond
sexy. What I really love about the Changelings is that their animal is very much a part of them even when they are in human form. This is not something I see all the time in other shape-shifter stories. Throughout the series, you see their human-side battling with their animal-side, which wants to act on instinct. This made their race very interesting and real, which brings me to my next point.
Another reason I was so hooked on this book and, subsequently, the series, is how well and convincing the world was developed. The story takes place in an alternative universe with three different races, Human, Changeling and Psy. Introducing new races and an original alternative universe is very difficult. What was great about the author's approach is how she took ideas we are familiar with and expanded on it to make it her own. We are familiar with the idea of
shape-shifters
, so she took that as a base and added her own elements to it to make the Changelings. We are familiar with the idea of psychic powers, she took that and added her own twist to make the Psy. What's even better is that we get to discover the ways of the unfamiliar Psy race along with the Changelings, as they are almost as equally clueless about this "emotionless" race as the readers are.
Of course, the hero of the story, Lucas, was super yummy and I can never resist a dominant male (not in a chauvinist pig way) who cherishes females. I loved how he is so protective of Sascha even as he still saw her as an enemy and wanted to extract information from her to get to the serial killer. I also liked Sascha's character development and her struggles to hold on to what is "right", as was taught to her from childhood, even though it goes against everything in her nature. Again, I think that is certainly very real. Most of us are afraid to be different because we know we will become an outcast, so often we do everything in our power to fit it. And that's exactly what Sascha was doing in the earlier parts of the story, until love conquers all, so to say. :)
What I didn't like:
There isn't really anything I didn't like about Slave to Sensation. But there were a few minor things that bothered me a little. For example, at one point in the story, it was said that one of Sascha's favorite memory exercises she does on the computers involved a list of different sex positions. It just seemed odd to me that as a race that views emotions as a weakness, promotes reproduction through the use of sperm banks instead of sex and a governing body that erased information they don't want their people to know would allow the use of sex positions as part of a memory exercise. However, as I said, the things I found odd are only minor things that did not really affect the rest of the story.
Some reader found it unrealistic that once Sascha decided to let go of Silence, the practice of getting rid of all emotions, she was able to transition right away and became like everyone else. Although, I would have liked to see her struggle just a little more on adjusting to her new life with emotions, I wasn't too bothered by it. How I see it, was that she was not able to be herself before, and now that she let go of Silence, she was just being herself - a normal person with emotions. But then I guess it all depends on how you see it.
Conclusion:
If you haven't seen
Slave to Sensation
by
Nalini Singh
, then you're missing out. I highly recommend this book, and the series to shape-shifter-lovers and non-shape-shifter-lovers alike. The world created in this story is highly believable and intriguing that you'll find yourself immediately hooked. Right now, the
Psy/Changeling series
is almost at the end of the first arc, with
Kiss of Snow
coming out in June, so it's getting super exciting to see how things will turn out.
Let me know what you think of this book or series. Did you like it?
All reviews for the Psy/Changeling series by Nalini Singh