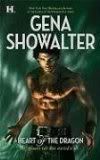 Heart of the Dragon
is the first installment of
Gena Showalter
's
Atlantis series
that had just been reprinted by
Harlequin
in January 2009. Although it was imaginative to place
mythical creatures
together with the idea of the legendary island of
Atlantis
, this
paranormal romance novel
was somewhat of a disappointment; therefore, I'm only be giving it a 3 Pink Hearts.
Summary:
Shortly receiving a package from her brother, Grace Carlyle found herself lost in the
Amazon Jungle
trying to find him. But instead of finding him, she stumbled through the portal her brother intended to find into Atlantis, a world full of mystical creatures, and was captured by the sexy-beyond-words Darius.
Darius en Kragin, a
shape-shifting dragon
, was the Guardian of one of the portals to Atlantis. Having had his own family slaughtered by human "travelers," he was entrusted to kill any beings who dares cross the portal - intentionally or not - in order to protect their land. Over the centuries, he had lost his emotions, until he met Grace, and for the first time as a Guardian, he wasn't able to perform his duty. So instead, he brought her back to his castle and locked her up.
It wasn't long before she was able to escape back to her world, and although he knew he couldn't survive for an extended period of time there, he followed her, convincing himself it was for the sake of the secrecy of his land. Intended only to find her missing brother, together they found out the owner of her brother's company had joined forces with the
Vampires
in
Atlantis
to rip the
Dragon
's castle of wealth and to wipe out their entire race. Now with all that chaos, Darius must sort out his feelings for Grace, and try to save his land while keeping her.


A couple weeks ago, when I just finished Kresley Cole's Kiss of a Demon King and I was in between her books (again!), I saw readers on her board recommending Gena Showalter's Atlantis series. Having seen her "Author Talk" videos, the image of Gena Showalter being super funny was imprinted in my mind, and with some of the nice reviews on Amazon.com, I figured I'd try out the first book of the Atlantis series, Heart of the Dragon. (Oh, ok, I'll admit that another reason I chose to start with this one is because I really loved the cover. SEXY! ;P ) Unfortunately, it disappointed.

What I liked:

The prologue of the book was very well written with the tragic past of Darius and how he became a Guardian. It stirred up emotions that made me serious want a HEA ending for him because of what had happened to him in the past. It also kept the pages turning, because I was eager to see what kind of a mate Gena Showalter had planned for him.

The author also did a good job with Grace's reaction to the idea of her being in another world - Atlantis - when she first realized she was there. Grace actually did go through some sort of shock/denial period prior to her acceptance of where and what Darius was. This was a transition period that is commonly overlooked/missed by some authors, causing their story to range from "less believable than it should have been" to "utterly ridiculous." In the case of Grace, although her shock/denial period wasn't very long, it made sense because of her brother's line of work, and her believing the existence of mythical beings, to a certain degree.

What I didn't like:

Despite the strong prologue, the rest of the book did not live up to the expectations it set. First of all, although Grace's reaction to the world of Atlantis was well-written, her initial reaction to Darius was not logical at all. Ok, I understand that he was the sexiest man on Earth, but it did not make any sense whatsoever to be ogling him when he was ready to take a swing with his sword to end your life.

Secondly, although I could somewhat understand how Darius was interested in her - afterall, he felt emotions and senses for the first time in 300 years when he first saw her - I couldn't understand how that "interest" turned into "love." And the same goes for Grace. From the time they met until they declared (at least to themselves) that they love each other, all that was shown was their lust toward each other. Well, Grace did feel sorry for Darius when she learned of his past, but there was nothing beyond sympathy that was described. So I was taken by surprised when, 3/4-way through the book, Grace all of a sudden realized she was in love with him. I was like "Huh??? What??? How???" (I'm sure if it was possible, my pupils would have turned into question marks or something). It's not that I have any problem with a couple lusting for each other, and then eventually loving each other, but there must be some valid turning point in between. Unfortunately, that turning point was not present in Gena Showalter's Heart of the Dragon.

The whole story was also kind of flat in my opinion. There were several places that could have been more exciting and could have made the book more of a page turner. Unfortunately, the writing style could not put me on the edge of my seat, and, other than the prologue, there was no particular scene where I couldn't put down the book to do something else. Although, for the record, I did finish the book in two days, when I was off and at home with nothing else to do, I never hesitated to put it down for a break or to do something else entirely different.

Conclusion:

Unfortunately, Heart of the Dragon by Gena Showalter is not a paranormal romance novel that I would recommend if you're choosing among a variety of available books. It certainly did not make it to my "Must Read" list. I would admit that since it was the first book I've read by her, it certainly didn't give me the best impression; however, this will not be the last book I'll be reading from her. I do plan to try her Lords of the Underworld series, since I've heard it was better. So, as of now, I'll be putting the Atlantis series on indefinite hold on my reading list, and when I've no more books to read, I might just get back to it and give it a second chance.