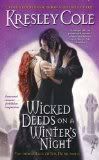 Wicked Deeds on a Winter's Night by Kresley Cole is the third installment of the Immortals After Dark Series. This is a well deserved solid 5 Pink Hearts paranormal romance novel that is sizzling hot with an irresistible storyline.
Summary:
Mariteka the Awaited was a witch who have not yet reached her immortality. She was born to be powerful, and yet, she could not control her powers. Either she fails to cast her spells, or she end up blowing things up. Tired of being looked down on, she entered the Talisman's Hie to prove herself, and she was determined to win. But so was everyone else. Especially Bowen, who she was attracted to instantly the first time she saw him.
Bowen MacRieve entered the Talisman's Hie determined to win the prize that would let him go back in time to getting back the mate he lost two centuries ago. Instead, he found Mariketa, who he was attracted to instantly. Despite of what his instincts were screaming out to him, he decided to ignore it for she was a witch, a race of the lore that he, as a Lykae, despises. And since she was a witch, she must have casted a spell on him making him think she was his mate.


What I liked:

Wicked Deeds on a Winter's Night was, like the other installments of the Immortals After Dark series, fast-paced, action packed, hot and sizzling page turner. I simply couldn't put the book down.

Before I read this book, I've always thought that Kresley Cole was going to write the story on Bowe getting his mate back, so it was a complete surprise that this story was about him and Mari, who was obviously not the mate who died years ago. The story was an adventurous one, and Bowe really melted my heart when he tried his best not to hurt or scare off Mari when his instincts take over during a full moon.

What I didn't like:

There really wasn't anything that I didn't like about the book. If there MUST be one, it would be the title "Wicked Deeds on a Winter's Night," as that has nothing to do with the story really. But other than that, I think the book's perfect.

Conclusion:

Wicked Deeds on a Winter's Night by Kresley Cole is a must read. I definite recommend it to anyone who like romance novels with an alpha male hero paired with a strong female who can rival him. Bowe was so sweet that he would melt your heart instantly. However, although this book can be read as a stand alone, I would highly recommend reading the previous two installments in the Immortals After Dark series before reading this book. Especially No Rest for the Wicked, as that story took place directly prior to this one, and will help the reader understand much more about the Talisman's Hie, and the lore world Kresley Cole has created.

All reviews for the Immortals After Dark series by Kresley Cole