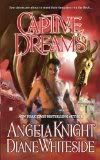 Captive Dreams by Angela Knight and Diane Whiteside is a sizzling hot paranormal/futuristic erotic romance. The storyline is great by erotic romance standards, and is just one sexy, kinky read. An absolute 4.5 Pink Hearts material.
Summary:
Both Celeste and Corrine Carson were successful writers of science fiction and romance novels. It wasn't until one day, when they materialized and kidnapped the two sisters to their world that the girls realized that the hot sexy alpha male heroes they created in their novels actually existed, and they had revenge on their mind.
In
Bound by the Dragon
, Mykhayl Tibronson, High King of Torhtremer, kidnapped Corrine to a his world of dragons and spells. Convinced that Corrine was a sorceress, he accused her for causing all his tortures and misfortunes in the past, and he intended to punish her for all that she had done. Intrigued and sexually drawn to the insatiable Mykhayl, she realized it was true that by writing her novels, she truly was his tormentor. Plagued with guilt and other feelings she'd rather not face, she was determine to help cure his sterility, no matter what it may cost her.
In
Bound by the Dream
, Jarred Varrain was finally able to get his hands on Celeste, the woman who made his life a living hell. He intended to exact his revenge on her, make her a sex-sub, and then give her to his friend. There was no escaping for her, as he was a cyborg, who was physically enhance, a sensor implanted in his brain, and incomparable skills in bed. Now it was just a matter of getting her out of his system in 14 days so he could give her over to his friend.


What I liked:

As an erotic romance story, both Bound by the Dragon and Bound by the Dream had a rich romance plot with scenes so hot that it sizzle off the pages. That made a very good balance between the romance plot, paranormal/futuristic elements, and erotica, which is difficult to find in other erotic romance stories. I also really liked the fast pace in Bound by the Dream. Angela Knight did a very good job in throwing us right into the story, wasting no time at all, which made it all the more engaging.

What I didn't like:

Bound by the Dragon, however, was slow to start off with as a novella. Unlike Angela Knight, Diane Whiteside chose to describe a lot of elements in her mystical world. That would have worked if the story was a novel; however, as a novella, the pace was just too slow, failing to capture my attention right from the beginning of the story.

Conclusion:

I would admit that I do like Bound by the Dream quite a bit better than Bound by the Dragon, hence, the high overall rating. But as erotic romance stories, they were both above average. So I would definitely recommend this book to anyone who likes erotic romance that has a well balance romance plot and sizzling sex scenes. Angela Knight will be on my radar from now on, and I will definitely be reading more of her works from now on.