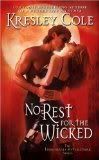 No Rest for the Wicked
is the second book of the
Immortals After Dark series
written by
Kresley Cole
. This sensual adventurous
paranormal romance novel
will keep your heart rate up and wanting for much much more. Definitely a solid 5 Pink Hearts material.
Summary:
After making the mistake of showing a
Vampire
mercy, which cost the lives of her two beloved sisters, the
Valkyrie
Kaderin the Cold Hearted had lost all her emotions. She felt for nothing, and her only goal in life was to kill every
Vampire
she sees, and collect their fangs as trophies. Just prior to entering for the Talisman's Hie - the immortal's equivalent to a deadly
scavenger hunt
- she made a detour intended to rid the
Vampire
terrorizing a small town in Europe, but instead found a vampire who stirred her deadened emotions.
Sebastian Wroth was the third of the famous Wroth brothers when they were alive. Centuries ago, he was turned, against his will, into a
Vampire
by his older brothers, and now he stayed in his castle awaiting his death. The moment Kaderin showed up at his castle to finish him, he knew she was his Bride, as his deadened
Vampire
heart began to beat once again. Although he believed that they belong together, Kaderin thought otherwise, so follow her he did to join the deadly tournament of Talisman's Hie, where the grand price was something that she (and many other contestants) would gladly die for.


What I liked:

No Rest for the Wicked was very imaginative and original, and although both Kaderin and Sebastian had dark pasts, the story was a relative light-hearted read. Most of the plot were focused on the tournament, which showed us the many sides of both our hero and heroine. I soon learned to love Sebastian's gentle nature and his giving personality, and to adore Kaderin as a strong-minded capable women.

As much as I would like Kaderin to fall in love with Sebastian earlier on in the book (or at least earlier than she did, since she didn't until almost the end), Kresley Cole made it completely believable and logical that she didn't. And although there were many times when Kaderin caught herself falling for Sebastian and had to hold back, it never got to a point when I was annoyed with her for doing so.

I also really liked the part where Sebastian admitted to his brother, half way through the story, that he didn't know if he loved Kaderin, but he just had to be with her. I thought that was very real. In the Immortals After Dark series, most couples where bounded by fates to be destined "mates," "brides" or whatever. Many authors writing books with this kind of a theme often fell in the trap that "finding your destined mate" = "falling in love," which isn't necessarily true. I really appreciated that in the No Rest for the Wicked, that mistake was not made, and we could clearly see how and why Sebastian and Kaderin fell deeply in love with each other in the end.

There was also an excellent balance between the romance plot and the tournament. Never a moment did I feel that the Hie was taking over the romance plot at all, instead, it highly complemented it, and drove many situations where the two fell, bit by bit, in love with each other.

What I didn't like:

One of the things... or maybe it's the only thing, that I didn't like about this book was that Kaderin and Sebastian hit it off, physically, a little too early in the story for my taste. They actually made-out the first time they met. Umm... It did got me worrying a little in the beginning, because I don't like female characters (or male characters for that matter of fact) being too casual (yah, call me conservative). However, after continuing with the series, I find out that that was just the away things were in their kind who lives for centuries, which made this a little better for me. But it would be better if that was established earlier in the series.

Conclusion:

Kresley Cole's No Rest for the Wicked is definitely a paranormal romance novel that I would highly recommend to anyone who likes an intense, imaginative plot with a super lovable Vampire hero who knows how to respect and love a strong-minded women. Although I did begin this series with A Hunger Like No Other, this definitely could be read as a stand-alone. But please be warned that you will likely not be able to put the book down until the last page. And when you do, you will likely rush out to the bookstore to get Wicked Deeds on a Winter's Night, the third installment of the Immortals After Dark series.

All reviews for the Immortals After Dark series by Kresley Cole